ISO certified and globally established company bests at producing Tea Bag Packing Machine, Tea Bag Machine, Industrial Teabag Machine, Double Systems Tea Packaging Machine, Volume Cup Type Pyramid Tea Machine, Sauce Packing Machine...
About Us
Tecpacking, Making Packaging Speak For Quality

In the industry of packaging, there is no name name better than Tecpacking Group (Tianjin) Co., Ltd. because the company innovates an ambit of packaging machines that rapidly packs products like granules, sauce, teabag, etc., and reduces human efforts in the process of packing.
As a manufacturer and an exporter, we produce Tea Bag Packing Machine, DXDK-500M/1000M Automatic Granule Packing Machine, Sauce Packing Machine, Liquid Packaging Machine and other machines. Our range is delivered in China, Russia, USA, Europe, South America, Australia, South Africa and East Asia. Knowing needs of customers globally, we develop packaging machines per standards that well-meet the norms of various countries.
We have an excellent sales channel in the whole wide world, Sri Lanka branch, Lithuania Agent, South Africa Agent, Czech Republic Agent, Russia Agent and Holland Distributor are some of our strengths. Machines supplied by our company are a perfect example of rigorous quality testing and exquisite workmanship.
To provide best possible packaging solutions to our national and international clients, we render the option of customization. Our service center which is open 24/7 makes us interact with customers at the time of their convenience. Timely, all queries are solved and products are delivered to increase the happiness of our jury, our clients.
For moving forward in the competitively growing packaging industry, we have made customers satisfaction, our motivation and inspiration. On the global platform, we have been successful in earning a reputation so high because of our quality work, efficiency products and professional dealings.
We best at keeping clients' needs at our priority and this is well-suggested in our ability to offer a single packing machine to a whole packing system, especially for pyramid tea bag along with many other packaging solutions.
Our Team

Paul Zhang is the Co-founder of Tecpacking Group(Tianjin) Co., Ltd. He holds 10 years of experience in the packing industry. In the company, he handles service team and global sales.
Mohan Peries, an innovator in the tea packing industry of Sri Lanka, started Union Commodities Pvt. Ltd. as a founder member in 1985. This company became third largest in Sri Lanka for exporting best teabags. He has served as a Director in charge of packaging operations in the company. He has earned a wealth of experience in the industry. Apart from Union Commodities Pvt. Ltd., he has served as a Director of Gold Crest Pvt. Ltd., Meadowhills Exports Pvt. Ltd. and Teamach Pvt. Ltd. Presently, he is serving as a Managing Director in Tecpacking Lanka Pvt. Ltd.
Arjen Peetoom is the founder of Tulppack that distributes Tecpacking machines. In solar pack, he worked for 8 years, and made a team to establish his own company. In the Europe, his company is famous for providing best service.
Tao Yinghao works as the Production Manager of Tecpacking. With 20 years of experience in the field, we excels at organizing necessary spare parts for quality production of DXDK-40/80 Granule Packaging Machine, Tea Bag Packing Machine and others.
Emily Dong is the co-founder of Tecpacking. She holds 10 years of experience in the industry and is currently in charge of both service and export.
Our Aim
'To make the phrase Made In China denote nothing below high quality, modern technology and perfect functioning.'
Why Tecpacking?
Our company stands at a great position in the packaging industry for producing best of Automatic Tea Bagging Machine, Tea Bag Packing Machine, etc. For customers happiness and future progress we are citing below a few factors, which are our major strengths:

Quality: In the first place of our priorities list, we always put quality. Raw materials used for making machines are sourced from famous manufacturers. At all levels of machine fabrication, we perform stringent tests.
Professional: We work professionally with all clients and serve them to the best of our strength.
Efficiency: We promise each of our customer to get a prompt reply from our company along with fast delivery.
Technical: We are technical experts in manufacturing machines. Our technical expertise has helped us strengthen our position in 30 countries.
Service: Our machines come with 2 years of guarantee along with lifelong service. First time installation of machines is free for customers.
Customers recommendation: Customers recommend our name because we serve exceptionally well products and services. Mr. Alberto, Former CEO of TEAMAC (Italy) is an example of clients who recommend us strongly.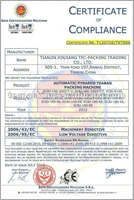 Get in touch with us